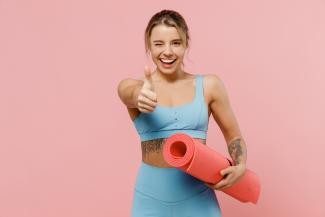 9 Fitness Hacks to Make More Time for Exercise
Getting fit doesn't require you to spend hours working out every day before you see the results of your effort. All that's required is that you follow these simple fitness hacks to find more time for exercise and achieve the best results.
Select Your Workout Clothes at Night
Set aside the workout outfit that you plan to wear the night before you are due to work out. It's even better if you pack the items you will need in your gym bag the night before. By having these items packed and ready to go, you will make it that much harder to change your mind at the last minute and choose to skip your next exercise session.
Try New Exercise Options
There are a number of interesting fitness activities in your area that you have probably not tried yet. Look for hiking trails in your vicinity or join the local hiking club. It would also be an exciting change of pace to explore a neighborhood on foot that you haven't ventured into before. If you don't have a swimming pool at home, locate local public swimming pools or find out what exercise opportunities await you at your local community center.
Walk the Dog
Rather than opening the door to allow your dog to roam around the yard when he needs a walk, take the opportunity to keep you and your dog fit by taking a walk with them in the morning and evening. Go one better by also heading for the dog park and having a game of catch with your best friend.
Keep it Short
If you don't have enough time available to follow your regular workout schedule, don't cancel it altogether. Better to do a workout of limited duration than no workout at all. Don't shy away from short workouts. Fitting in a number of mini-workouts in a day can amount to a lot of exercise. Don't overlook the benefits of an easy walk either.
Find a Fitness Friend
Find a friend to do your workout sessions with, preferably someone who enjoys the same activities and similar goals as you. Doing your workouts this way will have you following similar fitness activities and daily exercise schedules. Most importantly, your fitness friend will keep you accountable and sticking strictly to your workout schedule instead of skipping out on your daily fitness sessions.
Take the Stairs
You can find a simple way to include more exercise in your day by avoiding elevators and taking the stairs instead. Whether you follow this practice at the office or while shopping, it's great to see how quickly these sessions add up.
Be Thrifty
Getting fit doesn't have to set you back financially. There are countless free exercise videos to work out with that require hardly any or no equipment. The workouts that are available also range from cardio to Pilates to yoga, as well as everything in between.
Take Rest Days
Make sure to take rest days every week as it will improve your performance and prevent you from suffering from injuries. Taking time out after doing a lot of exercise will allow your body to recover and be in top form in time for your next workout session.
Leave the Car Behind
Do you have regular errands to run in town? Lower your gas bill and keep yourself fit at the same time by not taking the car out of the garage and shopping on foot or with a bicycle instead.
One of the simplest ways of keeping yourself motivated is by getting fit through exercises you enjoy doing. Getting and staying fit is a long journey but it's possible to find fitness practices that make exercising fun and that turn the journey from being a chore into a breeze.