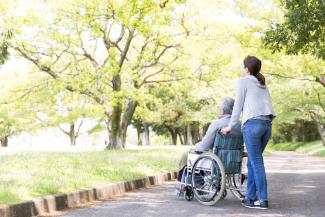 Ageing Well: Two Tax Credits That Can Help
Help, I've fallen and I can't get up! 
Remember that line from an ad a few years ago? I have a big rowdy family and when we get together this means there are 4 generations talking, laughing, and generally seeing how much mischief they can stir up. And while there are stronger connections between some members of the family than others, we all pretty much get along and help each other through the various curveballs life throws at us. Our four generations span from infant to 86 years, so we're still adding to the clan, but the reality is more of us are on the "senior" end of the hierarchy than ever before. 
Canada's population is aging. The graph to the right (compliments of Stats Can) fascinates me. The percentage of seniors, compared to the population as a whole, has been steadily increasing due to improved healthcare and longevity but the percentage of children has been declining pretty steadily (except for the post war baby boom). In fact, according to the 2016 census, seniors (age 65 and older) outnumbered children (14 and younger) for the first time ever. Who's going to look after us?
While your mortgage may be paid off, the cost of living, as a senior, increases in some key areas: namely healthcare and assisted living. There are various tax credits that become more readily available as a senior to offset some of these costs. Be sure to take advantage of any tax credits available to offset the high expense, or perhaps that of caring for an aging parent or an adult dependent child. The Disability Tax Credit (DTC) and the Canada Caregivers Credit (CCC) are two non-refundable tax credits that may help you reduce your taxable income. 
Disability Tax Credit
The DTC is available to any Canadian, young or old, who has a marked disability affecting their everyday lives. The Canada Revenue Agency has given a list of scenarios to help give insight into whether or not you may qualify. If you are eligible for the Disability Tax Credit, you may also be able to open a Registered Disability Savings Plan (RDSP). Make sure you check with your tax advisor to see if you could qualify.
Canada Caregivers Credit
The CCC credit is similar to the DTC, but is granted to the person providing the care. This may be an adult child caring for their parent, an adult caring for their sibling, a senior caring for their disabled spouse, or any number of scenarios in which a dependent is being cared for by another adult. Qualifying for the CCC is tricky as it depends on your, and your dependent's, net income. Speak with a tax professional to gauge your qualifications. 
Do your Research
I've learned through my own experience that there are many agencies and organizations with resources and programs out there, but knowing which ones are right for you or even knowing there is such a program is often challenging. (Because sometimes we don't know what we don't know!) One of my favorite resources is the national and provincial 211 services. You can go online at www.211.com or call 24 hours a day, 7 days a week and get help connecting with the right information or services available.
And remember, lots of things get better with age...fine cheeses and good wines come to mind...
Sources:
Disability Tax Credit https://www.canada.ca/en/revenue-agency/services/tax/individuals/segments/tax-credits-deductions-persons-disabilities/disability-tax-credit.html 
Canada Caregiver Credit https://www.canada.ca/en/revenue-agency/services/tax/individuals/topics/about-your-tax-return/tax-return/completing-a-tax-return/deductions-credits-expenses/canada-caregiver-amount.html