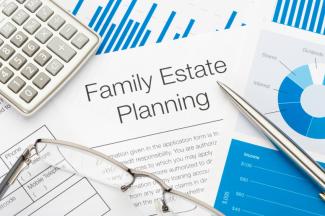 Estate Planning Made Easy - And Affordable
When you hear the term "estate planning," what comes to mind? Do you think of the ultra wealthy trying to determine how to divide their massive fortune among their children?
Sure, that's one example, but in the everyday world, estate planning is for anyone with assets of any kind or amount who is looking to pass those assets along to the next generation or other beneficiaries.
Many people don't realize that an estate plan not only facilitates the distribution of assets according to their wishes, but it can also be an effective way to reduce estate-related taxes and other expenses, which provides a greater financial benefit to heirs. Another feature of estate planning is a more efficient transition of assets, allowing your heirs to benefit sooner.
Without a legal will – which is the cornerstone document of an estate plan – when you die your assets could get caught up in a time-consuming and costly administrative process. Not having a valid will when you die is known as "dying intestate," and it may result in the courts deciding how your assets are allocated to beneficiaries, oftentimes not in the way you would've wanted.
Just be sure to keep your will updated to reflect circumstances that may have changed over the years (i.e., significant life events), such as:
Marriage, divorce, death of a spouse or family member
Birth of children or grandchildren
Major purchase or sale (e.g., home, cottage, business)
A simple way to create your will
If an estate plan is such a good idea for transferring wealth, why don't more people have one? Quite often it comes down to the perception that estate planning is complicated and expensive. However, for most people the process might be simpler and less costly than you may think.
Consider, for example, a trusted will preparation service provider like Willful. This Canadian company offers an online estate planning solution that is generally easy to use and affordable. Their digital platform is secure and user friendly, allowing you to complete your will in roughly 20 minutes – all from the convenience of your computer or other device.
If your will preparation needs are fairly straightforward – which is the case for most Canadians – then Willful may be the right solution for you. Willful can guide you through the entire process. Once your will is complete, it'll be signed electronically and safely filed with Willful's notary.
A basic will using the Willful digital platform is competitively priced and includes notifying key people named in your will that you've created or updated your will. For individuals or families who need expanded coverage, such as creating power of attorney documents, building lists of assets and registering the location of their will on the Canada Will Registry, they may upgrade their plan at a higher price point that's still more affordable than many other options.
As a special offer to Investia clients, you can make use of Willful's services at a 20% discount to their standard prices. If you ever need to update your will, you may do it on the Willful platform at no extra charge.
What if your circumstances are more complex?
Willful is appropriate for many Canadians, but it isn't for everyone. Please note that Willful's services are not designed for:
Multiple wills in different jurisdictions
Complex trusts (e.g., spousal or Henson trusts)
Dual wills for business owners
For these and other highly complicated situations, it would make sense to work with your advisor and tax and estate professionals to create your estate plan, since Willful cannot provide legal or tax advice. In fact, even if your will is straightforward enough to use Willful's service, it's always a good idea to involve your advisor to ensure estate planning is effectively integrated into your comprehensive investment plan. 
Find out more about how we can build a suitable investment plan that includes a personalized estate plan. Contact us today.