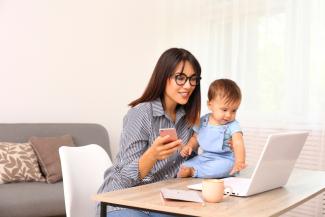 How to Claim Your Work From Home Expenses During COVID-19
Were you one of the nearly 5 million Canadians who was required to work from home this year due to Covid-19? If so, the Federal government announced on November 30th a new "no questions asked" $400 tax deduction to cover additional costs incurred for employees working from home in 2020. No receipts are required for this deduction and you will not need your employer to provide a T2200 Form – known as a "Declaration of Conditions of Employment."
In the pre-pandemic world, salaried employees who work more than 50% from home, or commissioned employees, have been able to deduct part of the costs related to home electricity, heating, rent, office supplies or maintenance. If you have always been provided with a T2200 Form, then I think it would be beneficial to continue as before. If you are new to the "home office" concept because of Covid, but think your job structure might now change to include time working from home, it may be beneficial to calculate whether you should use the new $400 flat rate tax deduction. Simply, do a bit of homework to calculate your actual monthly expenses that go into your home (these include mortgage interest, internet, power, etc) and see if it is worthwhile to take advantage of the full deduction. You would only include the portion of those expenses that goes toward your office space (i.e. if your office takes up 10% of your home, then use 10% of your power bill). Please note: The full deduction approach may be subject to audit whereas the $400 flat rate deduction is not.
Additional information about the flat rate deduction is expected from CRA in January 2021…so stay tuned!
Finally, I would like to take this opportunity to wish each and every one of you a happy, safe, and wonderful holiday season.