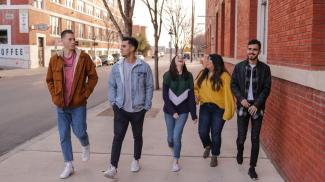 Practical Advice for Young People Going Into the World
Practical Advice for Young People Going Into the World
Moving out of your home for the first time can be a thrilling experience. But it can also be stressful and challenging. After all, it's a massive step toward independence, and it's when you'll start to build your own life away from home. Unsurprisingly, you will encounter new obstacles and have to figure out many things as you go. However, there are ways to prepare now to help you transition smoothly into adulthood. Check out these tips for moving out of your home as a young adult!
Plan for School     
There are many benefits to pursuing higher education as a young person, and it's a good idea to already start planning your next steps when you're a junior in high school. Going to college can increase your employability and lead to higher salaries throughout your career, along with giving you more room for career specialization. It can also help your personal development goals by teaching you new skills and improving self-confidence. Moreover, going to college can provide excellent opportunities for networking and socializing, and you may form relationships that last a lifetime.
If you are ready to boost your long-term earning power, consider an online learning program in a field you are passionate about. By attending an accredited online university, you can earn a degree in almost any concentration while still holding down a full-time job and tending to other life responsibilities. Do your research to compare tuition rates until you find a good fit. If you plan to study abroad, it's essential to budget appropriately to not put yourself in a poor financial situation down the road. There are many funding opportunities for students who wish to study in different countries. 
Research your options to choose which programs could fit your needs and apply for as many scholarships as possible. You can also save money by working with a student travel agency, applying early for your passport and visa, and speaking with other students who have traveled abroad to learn cost-saving hacks. 
Learn to Budget      
Even if it's not the first thing that you want to think about, your finances will play a vital role in your well-being and success as an adult. Try to nail down your finances from the start by learning how to budget. If possible, start building your savings before leaving home. Learn how to calculate your current expenses and income, and leave room for savings. Many free spreadsheets are available online that can help you get off to a strong start.
As you develop your budget, be sure to account for potential living and housing costs. The ultimate goal is to live comfortably and safely within your means.
Secure an Income          
Paying bills is stressful enough when you have a steady income. But when you don't have a consistent influx of money every month, it can make it overwhelming. And it can lead to long-term financial problems such as late payments, credit card debt, and a poor credit score. If you do not have a steady income, consider waiting until you do before you move out. Even if you plan to seek higher education, try to land an entry-level position in your field of interest. If that is not an option, look for any job that can help you lay a firm financial foundation.
Be Picky About Where You Live
Finally, don't just choose any place to live. If you sign a lease you will not be able to afford every month, you will put yourself in a precarious financial situation. Ideally, you will find a roommate to share housing costs with whom you enjoy being around. Also, you want the area you live in to be safe. Take time to research any neighborhoods, apartments, or houses you are interested in to ensure it is somewhere you can thrive.
If you're interested in purchasing a house, be wary of an "as-is" purchase. Though the asking price of the house may seem like a good deal, "as-is" buyers usually waive their right to inspections once under contract. This can mean that the house may wind up being much more costly than the purchase price.
Moving out of your childhood house and finding a new home is the biggest step you will ever take toward independence. And you'll want a firm foundation that you can build your life upon. Consider the tips above as you plan your grand adventure into the world, and keep learning as much as you can about how you can position yourself for happiness, success, and wellness in your adult years!