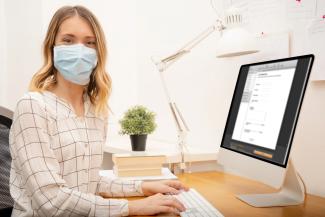 A quick guide to reopening your business post-lockdown
If you're planning on reopening your business soon, you're not alone. Still, returning to business as usual may not be possible right now. In this guide, you'll find plenty of useful resources to help you navigate the process of reopening, returning workers to the workplace, and implementing new protocols to keep everyone safe.
Evaluate Your Financial Standing
Now more than ever, it's critical that you know where your business stands financially. If you've been losing money during the lockdown, now is the time to clean up your bookkeeping and re-evaluate your budget.
Embrace Change
Adapting to the changing times will help your business stay afloat. Take this opportunity to make impactful changes to your business, whether this means shifting your employees to remote work or offering virtual services to your customers.
Promote Workplace Safety
Before your employees return to work, implement new safety measures to keep everyone healthy.
While the coronavirus is going to stick around for a while, your business needs to get back up and running as soon as possible. Create a reopening strategy now so you can set your business up for success. Assess your finances, make effective changes to your operations, and do what you can to reduce the health risks to your workers and customers alike.
Need to create a financial plan to reopen your business on a strong note? Work with the experts at Trinity Wealth Partners. Call 877-404-1112 to schedule a free introductory call.
The comments contained herein are a general discussion of certain issues intended as general information only and should not be relied upon as tax or legal advice. Please obtain independent professional advice, in the context of your particular circumstances. This article was produced by Advisor Stream for the benefit of Rick Irwin, Financial Advisor at Trinity Wealth Partners, a registered trade name with Investia Financial Services Inc. The information contained in this article does not necessarily reflect the opinion of Investia Financial Services Inc. and comes from sources we believe reliable, but we cannot guarantee its accuracy or reliability. The opinions expressed are based on an analysis and interpretation dating from the date of publication and are subject to change without notice. Furthermore, they do not constitute an offer or solicitation to buy or sell any securities.
Mutual Funds, approved exempt market products and/or exchange traded funds are offered through Investia Financial Services Inc. Commissions, trailing commissions, management fees and expenses all may be associated with mutual fund investments. Please read the simplified prospectus before investing. Mutual funds are not guaranteed and are not covered by the Canada Deposit Insurance Corporation or by any other government deposit insurer. There can be no assurances that the fund will be able to maintain its net asset value per security at a constant amount or that the full amount of your investment in the fund will be returned to you. Fund values change frequently, and past performance may not be repeated. Investia is not liable and/or responsible for any non-mutual fund related business and/or services.
Life Insurance related services and products are provided through PPI.