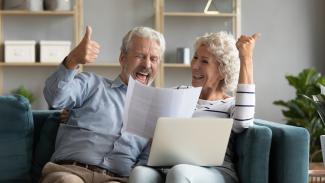 Seniors 75 & over will receive extra OAS payment in August
Canada's Minister of Seniors, Deb Schulte, announced in July that seniors who are eligible for an Old Age Security (OAS) pension as of June 2021 and who are 75 years old or older by June 30, 2022, will receive a one-time Old Age Security (OAS) payment of $500 some time during the week of August 16, 2021. 
This extra payment wasn't entirely unexpected as the Liberal government announced in the spring it would be raising OAS amounts for seniors over 75. Payments will increase by 10% as of July 2022. As well, OAS payments are reviewed quarterly and as of this quarter, beginning July 2021, payments will increase by 1.3% in an attempt to keep pace with inflation. 
How much will your new OAS payment be?
For example, if you currently receive $600 in OAS, you will instead receive $607.80 in July 2021. If you are over 75 by July 2022, you will receive at least $668.58 in July 2022. This could even increase, depending on the outcomes of upcoming quarterly reviews.

The increased (and, in many cases, much-needed) income should help seniors offset the increasing cost of living. Because the program is intended for low-income seniors, if your annual income is above $79,054, however, your OAS payments will be less than the maximum amount of $626.49.
That being said, August's $500 payment is certainly welcome by all eligible seniors, whether you'll enjoy some leisure spending or add to your savings. 
The comments contained herein are a general discussion of certain issues intended as general information only and should not be relied upon as tax or legal advice. Please obtain independent professional advice, in the context of your particular circumstances. This article was produced by Advisor Stream for the benefit of Rick Irwin, Financial Advisor at Trinity Wealth Partners, a registered trade name with Investia Financial Services Inc. The information contained in this article does not necessarily reflect the opinion of Investia Financial Services Inc. and comes from sources we believe reliable, but we cannot guarantee its accuracy or reliability. The opinions expressed are based on an analysis and interpretation dating from the date of publication and are subject to change without notice. Furthermore, they do not constitute an offer or solicitation to buy or sell any securities.
Mutual Funds, approved exempt market products and/or exchange traded funds are offered through Investia Financial Services Inc. Commissions, trailing commissions, management fees and expenses all may be associated with mutual fund investments. Please read the simplified prospectus before investing. Mutual funds are not guaranteed and are not covered by the Canada Deposit Insurance Corporation or by any other government deposit insurer. There can be no assurances that the fund will be able to maintain its net asset value per security at a constant amount or that the full amount of your investment in the fund will be returned to you. Fund values change frequently, and past performance may not be repeated. Investia is not liable and/or responsible for any non-mutual fund related business and/or services.
Life Insurance related services and products are provided through PPI.