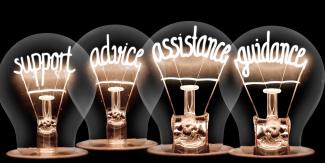 Understanding Advisor Credentials
Investing is an essential part of building a retirement nest egg. But it can be complex, time consuming and even detrimental if done without proper research and guidance. That's why many Canadians work with an advisor to help them select the right investment solutions and strategies to achieve their financial objectives. 
When choosing an advisor, it's important to inquire about their credentials and the services they're qualified to offer. Learning about industry-specific titles and designations may help you determine what an advisor brings to the relationship and how they can assist with your wealth goals. 
Regulatory oversight 
Two regulatory bodies are responsible for advisor licensing in Canada. 
The Mutual Fund Dealers Association of Canada (MFDA) oversees regulation of mutual fund dealers and sales representatives. MFDA-licensed advisors can offer advice and execute trades related to mutual funds. If they meet enhanced proficiency requirements, they can also provide access to exchange-traded funds. These advisors often offer insurance solutions as well, if they are registered with applicable regulatory bodies. 
The Investment Industry Regulatory Organization of Canada (IIROC) oversees regulation of "full-service" investment dealers and their advisors. In addition to the products and services offered by MFDA-licensed advisors, IIROC- licensed advisors can provide access to securities such as individual stocks, bonds, derivatives and commodities. 
Many IIROC-licensed advisors also provide access to insurance products. 
IIROC and the MFDA are proposing to merge into a single regulatory organization, which should allow for more efficient and consistent industry regulation. 
Industry designations 
The professional designations an advisor has earned reflect their skill set. To uphold their designations, advisors must fulfill certain ongoing education and training requirements. Here are some common designations among advisors: 
Certified Financial Planner (CFP). Advisors holding the CFP designation have completed intensive education in all aspects of financial planning, and are equipped to create customized financial plans. In Quebec, the comparable designation is Financial Planner (F.Pl). 

Personal Financial Planner (PFP). Advisors with this designation focus primarily on financial planning for individuals. PFPs are knowledgeable about investments, insurance solutions, and tax and estate planning. 

Chartered Investment Manager (CIM). Those who have earned the CIM designation commit to deciding which investment solutions are most appropriate for each client by managing investments according to prevailing market and economic conditions. 
Chartered Alternative Investment Analyst (CAIA). CAIA charterholders are responsible for managing, analyzing, distributing or regulating alternative investments. As more investors use alternatives to help enhance risk-adjusted returns, the role of a trained CAIA charterholder gains relevance. 

Chartered Financial Analyst (CFA). CFA charterholders are highly educated in disciplines such as portfolio management and investment analysis. Only a small percentage of advisors hold this elite designation. 

Responsible Investment Specialist (RIS). Advisors licensed to sell mutual funds may complete the requirements to earn the RIS designation and focus on selecting investments for clients that meet environmental, social and corporate governance (ESG) criteria. 
While industry-related licensing and designations vary, all qualified advisors can offer significant value. In the case of an advisor, they may provide extremely knowledgeable guidance around financial planning, investment selection and monitoring, and tax management. As well, when markets are volatile and emotions tend to run high, they help keep clients disciplined and focused on their long-term goals.