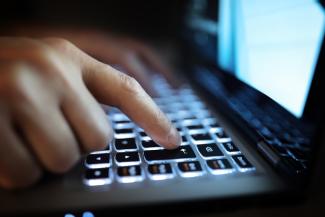 Why Digital Estate Planning is Crucial
Changes in the way we use technology to manage our lives mean changes in the way we must plan for our estates. From computer passwords to online banking, your estate plan should include all digital factors.
We all know how important it is to have a plan for your physical estate at the time of your death, including property, heirlooms, and financial assets. Many people, however, overlook their digital assets. More and more of what could be considered "digital property" is housed somewhere on your home computer or "the cloud," including gigabytes of bills, tax documents, pictures, and receipts. To stay green, many of us no longer keep hard copies of these items, but this can make it much more difficult for your family to manage or even access your digital estate.
A crucial part of your digital estate is the password you use to protect it. Many of us hesitate to write these down, but keeping a record may be necessary when it comes to planning for your death. An alternative would be to express where your executor can locate your passwords rather than directly including them in your will.
Passwords become less helpful if your family members aren't even able to identify all of the accounts you hold. It may be a good idea to keep a list of important accounts, banking or otherwise, that your family should be able to access. Some others might include your email, social media accounts (Facebook, Twitter, etc.), online file storage (Dropbox, Google Drive, etc.), or desktop user accounts. You should also include your smartphone if you use a password (or "lock screen") to gain access to it.
In your day-to-day activities, keep in mind the accounts you use and whether or not your family might need access to them after your death. If so, plan for it!
The comments contained herein are a general discussion of certain issues intended as general information only and should not be relied upon as tax or legal advice. Please obtain independent professional advice, in the context of your particular circumstances. This article was produced by Advisor Stream for the benefit of Rick Irwin, Financial Advisor at Trinity Wealth Partners, a registered trade name with Investia Financial Services Inc. The information contained in this article does not necessarily reflect the opinion of Investia Financial Services Inc. and comes from sources we believe reliable, but we cannot guarantee its accuracy or reliability. The opinions expressed are based on an analysis and interpretation dating from the date of publication and are subject to change without notice. Furthermore, they do not constitute an offer or solicitation to buy or sell any securities.
Mutual Funds, approved exempt market products and/or exchange traded funds are offered through Investia Financial Services Inc. Commissions, trailing commissions, management fees and expenses all may be associated with mutual fund investments. Please read the simplified prospectus before investing. Mutual funds are not guaranteed and are not covered by the Canada Deposit Insurance Corporation or by any other government deposit insurer. There can be no assurances that the fund will be able to maintain its net asset value per security at a constant amount or that the full amount of your investment in the fund will be returned to you. Fund values change frequently, and past performance may not be repeated. Investia is not liable and/or responsible for any non-mutual fund related business and/or services.
Life Insurance related services and products are provided through PPI.